To participate in a promotion I read about
here
, I am sharing my 2009 Christmas card I created on Shutterfly.com.
This was my favorite Christmas card to date, and it's going to be hard to top it in 2010!
Although, the 2008 Christmas card
could
have been better if I changed up the saying that I used. I used the picture I shared with you
here
(the February 23rd picture) and used the saying 'Merry Christmas to all and to all a good night.' Instead, I should have said 'Merry Christmas to all and to all a Bud Light' since there is a blaring Bud Light sign in the background. But, alas. One of those moments where you come up with something really great to say AFTER the fact.
But anyways, I will be using Shutterfly.com to create this year's card as well and you should too!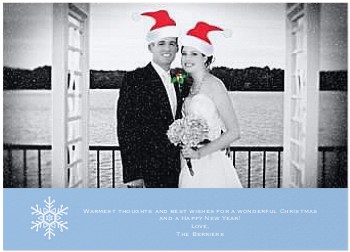 Stirling Snowflake Christmas